3-19-15 Whiskey-Sipping ElectroGoth Torch Singer Hannah Cohen Melts The Standard East Penthouse on 3-16-15
If you liked Lana Del Rey's first album, you're going to love Hannah Cohen! There was suspense and expectation in the air Monday night at The Standard: East Village Penthouse. Surrounded by a nearly 360 degree outside terrace, it was an awesome space! The room soon packed and I was lucky enough to be in the front row. Ms. Cohen was there to sing songs in support of her new album "PLEASURE BOY" which will be on sale from label Bella Union on March 31st. Here's a link to the first single from the album: "Keepsake".
[Photos of the show after the fold]
After a brief introduction by the organizer of The Standard's music series, Annie O., Hannah, her drummer and her keyboardist quietly took the stage; Hannah with a drink in her hand. They immediately started playing and I realized I was so close I almost didn't have room to use my vintage nikon zoom. But Hannah didn't seem bothered by how close the audience was; her face half-masked in shadow as she sang with downcast eyes.
And thank goodness, her new music did not disappoint! It's a departure from the singer/songwriter style of her debut album "CHILD BRIDE". Her new sound is more energetic, just what I was hoping for! It's difficult to describe: a mixture of electro, goth, rock n' roll with some melancholic femme fatale thrown into the mix. She seemed sincere.
Her band was on point and loving the music- the drummer was beaming and the keyboardist made playing look easy as he calmly looked on. All impressive, considering Hannah told us it was only their SECOND TIME performing together! She became more confident as she sang and appeared to drift into musical trances. Her voice filled the room, wandering into melody. The more she sang, the more she transformed into a torch singer for the new millennium – sultry, dreamy, melancholic and transporting!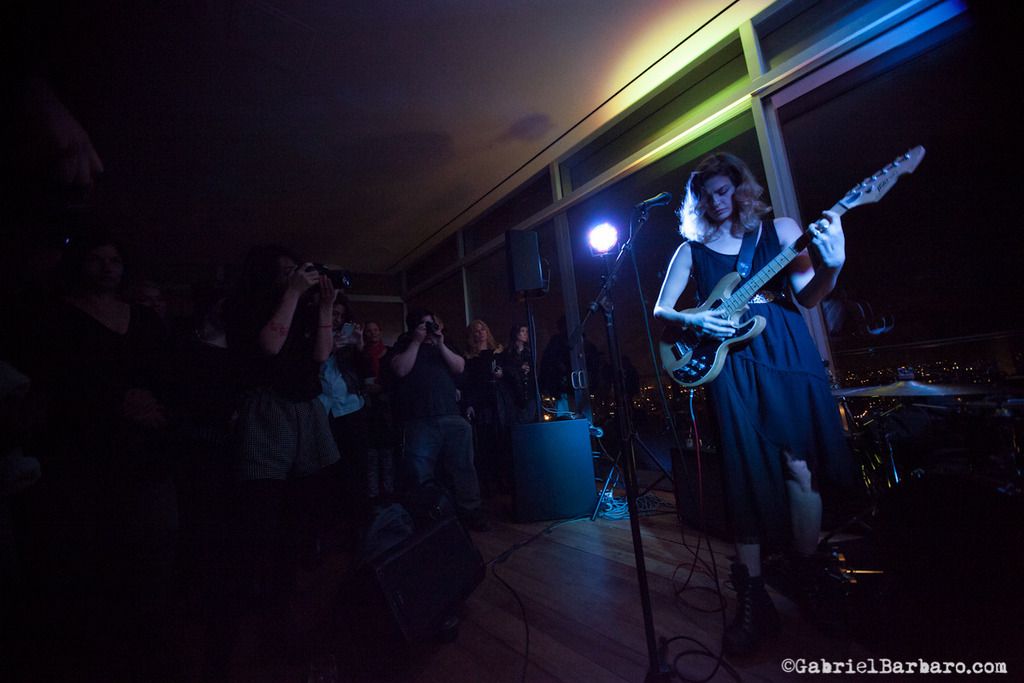 About halfway through the set, she looked up us and half-joked she was "drinking melted ricola and a drop of whiskey" and later confessed, "I'm sick, but I'm not contagious." I liked how honest she was.
After that, I was psyched to hear their music get more energized and the beats get heavier – the drummer was loving life! Hannah was moving around through the partial shadows, her voice crooning and dancing between notes, into the melody. The more I watched and listened, the more I felt I was watching a rock star about to rise (I have to admit, her past as a model adds to her rocker mystique). But there was something at once shy about Hannah and yet artsy and serious. She was expressive as she sang; the result was enchanting.
Near the end she looked down at her empty glass and told us it was "the last drop and the last song". She said she probably couldn't sing an encore and was there any more whiskey? A kind soul gave her a glass of water, for which she was really grateful and she kicked off the last song.
At the end, we all cheered and rooted for an encore and that same kind soul gave her a whiskey. So she picked up her guitar and, modestly, asked us to be kind. It turned out to be a really nice song with the keyboardist.
As the concert ended she looked out the window onto the terrace and a couple excitedly gave her four thumbs up! I think everyone felt that way. She's talented and she's going places!
Check out my photos of the concert below!